Usage: 8 colors manual T-shirt screen printer can print sheet things, ex. paper, T shirts, clothing, towel, umbrellas, textile, bags, caps, shoes, garment etc. Silk screen printing machine for 8 colors, 7colors, 6colors, 5colors, 4colors, 3colors, 2colors printing.
Specification:
HC-SM8-1823 Manual 8 color 8 station spider machine
1)

Worktable size: 20*25 inch (500*650mm)

2)

Max print size:

18*23 inch (450*600mm

3)

Max print speed: 800pcc/H

4)

Max print thickness: 0-20 MM

6)

Max height of screen frame: 1.57 inch (40mm)

7)

Max size of screen plate: 21*26 inch (550*680mm)

9)

Wattage of heater: 6KW

10)

Positioning system: Mechanical position

11)

Power source: Manual,

without electricity

12)

Lead rail circle diameter: φ1600mm
Features:
1)

8 color clothing screen printing machine with high strength, good rigidity tensile support and full steel design to ensure longer life.

2)

Center vertical shaft type structure design to rotate smoothly,

reduce

labor intensity.

3)

Screen frame with rotatable arrangement to make operator work alone or cooperate with two or more people, so high efficiency printing come true.

4)

Worktable can be moved around.

5)

Screen plate can also be moved around, the front of screen plate can be fine adjusted up and down, and overprint precision is 0.025mm.

6)

IR dryer make ink dry fast.
Power Supply︰220V/110V, 50/60HZ (For IR dryer)
Standard Certificate: ISO9001-2000
Country of Origin: Guangdong, China
Payment Terms: T.T, PayPal, Western Union or L/C
Lead time: Within 5 days when get buyer's payment or deposit
Shippment: By DHL, FedEx, EMS, UPS, by air or by sea
Guaranty:  one year
Packing:   by wooden case
Packing size: 1900*1900*1200mm
Packing volume: 4.3 CBM
Gross weight: 550KG
Machine Fittings for free:
Squeegee one pc
One set of tool box
Operation instruction in English
Customers:
Promotion Kings co. in Malawi
Fashion design ltd. in Philippines
Suggestions by HC factory:
l

.

Please coat solvent glue on the worktable before clothing printing.

2.

Accessories come with screen press as follows: solvent glue, squeegees and screen plate.
   T shirt Sample by HC-SM8-1823 T shirt screen printer: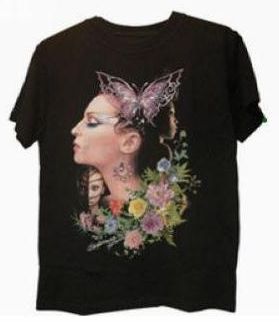 1) How to choose screen plate?
Mesh: 65 T/ cm
Tension: 20N/ cm
2) How to choose squeegee?
Size: 5 T/ c*9mm
Hardness: 75 degree
3) What kind of ink it use?
Heat-set ink
Mucilage
4) How to dry inks? What's the temperature?                          
By IR drying conveyer or flash dryer.
Temperature at 150℃.